Community networking application - SuperConnectr
Immerse your members in your community
Beyond a networking application...
L'application de communauté
Faîtes vivre votre communauté et centralisez votre communication avec vos membres dans un fil d'actualités dédié aux informations essentielles que vous souhaitez leur partager.
Créez vos catégories thématiques pour être au plus proche de l'information attendue par vos membres et donnez leur le choix de la personnalisation des « push notifications » qu'ils souhaitent recevoir sur leur smartphone.
Grâce à votre application, vos membres ne manquent plus les informations importantes de votre communauté.
Favorisez le partage et les échanges entre membres grâce à l'Agora : un espace de discussions dédié et structuré pour partager ses opportunités, ses besoins, ses questions, ses recommandations, ses actualités…
Chaque publication peut être enrichie d'une image, une photo, un lien… et chaque membre peut réagir et commenter sur chaque publication. 
Votre communauté devient vraiment collaborative.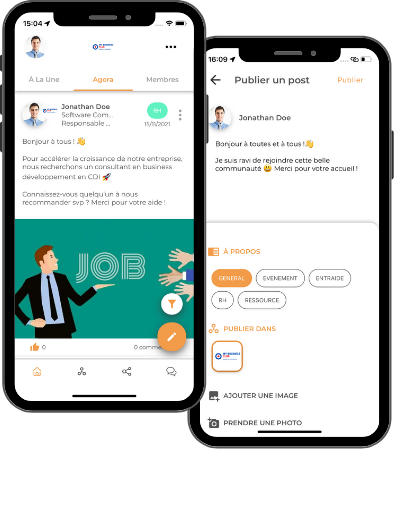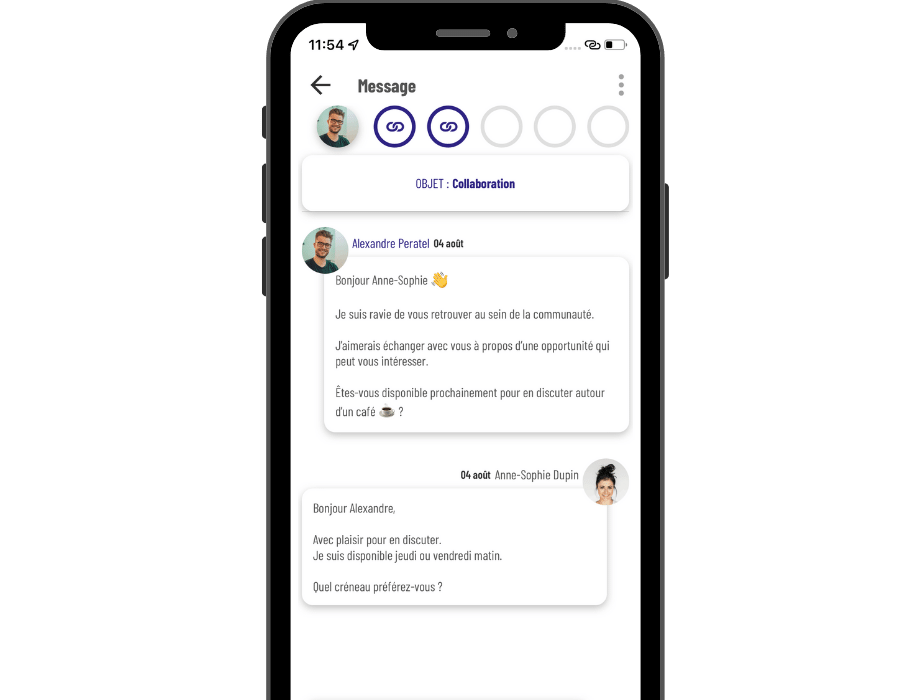 Pouvoir se contacter facilement entre membres est important pour favoriser les interactions.
Chaque membre peut contacter un autre membre par l'envoi d'un message privé et qualifié sur son objectif.
Le networking et les rencontres réseaux n'ont jamais été aussi simples.
Faciliter le networking dans votre communauté doit être un standard. Il est important de pouvoir s'identifier facilement et rapidement pour capitaliser sur la force du réseau grâce un annuaire et un moteur de recherche performants. 
Recherchez un membre par nom, prénom, entreprise, fonction, compétence, localisation ou par mot-clé sur son profil pour l'identifier.
Sélectionnez son profil et découvrez ses informations détaillées (fonction, secteur, biographie, compétences, lien vers Linkedin…) avant de le contacter par messagerie privée, par téléphone ou de le mettre en relation avec un autre membre grâce au Connector.
S'entraider par mise en relation pour se recommander, se coopter ou simplement s'entraider pour rencontrer la bonne personne est facilité grâce au Connector, une exclusivité SuperConnectr !
La force du réseau passe par la puissance de la recommandation.
Au delà du networking, permettez à vos membres de devenir de véritables SuperConnecteurs au sein de votre communauté.
Créez et animez vos groupes, clubs et commissions thématiques, métiers ou sectoriels au sein même de votre application.
Chaque sous-communauté propose ses propres fil d'actualités, fil de discussions, annuaire des membres et ses propres événements.
Avec SuperConnectr, vos groupes (privés et / ou publics) deviennent de véritables communautés à vivre.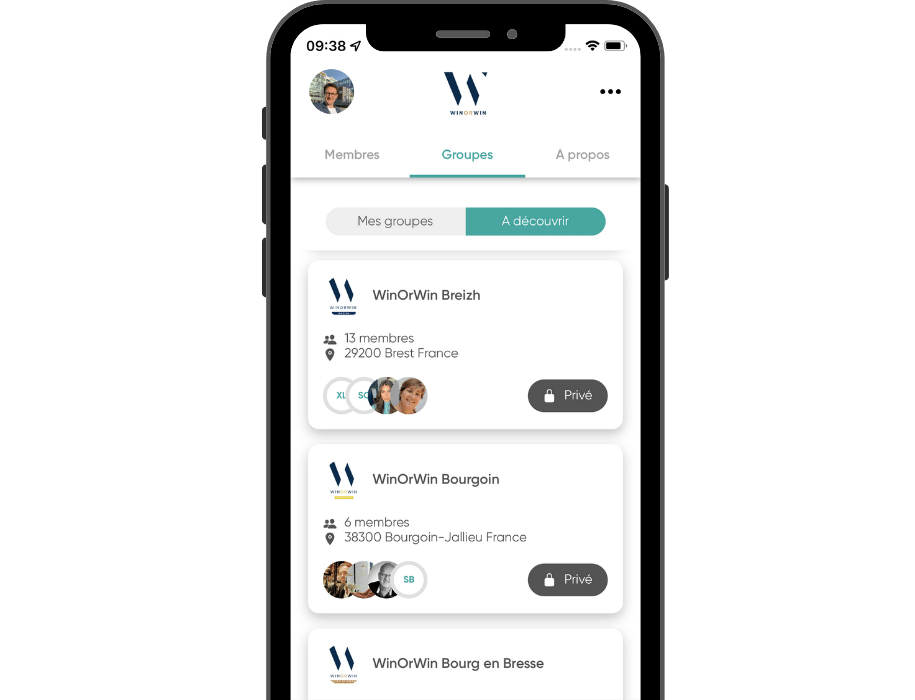 Partagez vos prochains événements dans votre agenda accessible à tous vos membres.
Soirée, afterwork, cocktail, atelier, petit-déjeuner, webinaire…
Paramétrez vos événements, alertez vos membres automatiquement par push notification et par e-mail, rappelez automatiquement en amont qu'ils participent à vos événements et facilitez l'accès aux actualités, aux échanges et au networking entre membres.
Vos membres peuvent ajouter vos événements à leur agenda sur leur smartphone, visualiser l'emplacement sur Google Maps ou accéder à votre billetterie ou visio, directement via l'application.
Dès maintenant, tous vos événements sont dans la même application que celle de votre communauté !
Ready to increase the power of your community?